Unrestricted Lot- Are you planning to invest in the real estate industry for a long time but have no idea where to start?
While it is certainly a good decision to place your bet on something that you would cherish for the rest of your life, it is important to have a complete understanding of the terms used in this industry and understand which lot investment would give you the maximum returns.
As you scan through different available land terms, you might come across a phrase that signifies an "investment in an unrestricted lot available and a hefty discount for interested individuals!" Sounds exciting, right?
Before you make any decision in the heat of the moment, it is important to understand what this means!
Read through this blog and have all your doubts cleared within a fraction of a few minutes!
Unrestricted Lot
An unrestricted lot means that on this land, there are no imposed restrictions from the Homeowners Association (HOA).
It means the owner of this lot can do whatever he wishes unless he remains with certain terms and conditions.
This implies that even if the homeowner has no potential limitations on the land regarding zoning (city or township), easements, or deeds, he might be imposed on another set of restrictions.
What are Deed Restrictions on Unrestricted Lot? And How Do They Affect the Lot?
According to industry experts, deed restrictions are written agreements that restrict the use of or impose limitations on certain activities on the land in a subdivision.
The purpose of this kind of restriction on an unrestricted lot is to protect the property's character by avoiding industrial and commercial facilities.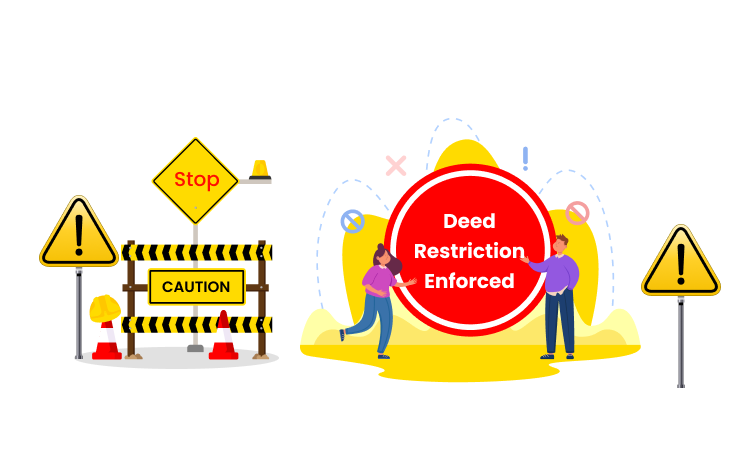 The common deed restriction includes –
Structural limits
This cutback is mostly related to parameters like space between houses, roof colors, architectural aesthetics, mailbox styles, and fences. Deed restrictions on an unrestricted lot can mean the imposition of single-family homes only on the land and no permission for any kind of business. Hence, when you invest in such land, make sure to be aware of all the restrictions on it if you are particularly investing for business purposes
Businesses
The deed restrictions in an unrestricted lot can also prohibit any kind of business from home or property to limit the traffic woes in residential spaces
Animal Limits
Furthermore, there might be limitations on the type and number of animals the owner can have on his lot at a particular time. This kind of restriction applies to owners who would like to keep livestock at their place, including pigs, chickens, or goats.
According to available information, this kind of restriction is very common in HOA-controlled neighborhoods. It means this limitation can impose the prevention of buy or staying certain breeds of pets, the number of pets allowed on the land or even where your pet is kept on the premises. It nullifies the option of carrying out any sort of business related to livestock farming or pet care on the lot
Vehicle restrictions
The unrestricted lot does have certain vehicle restrictions imposed on them. The common deed restrictions on this type of land include that the owner must not possess motor homes, boats, storage of non-working cars and motorcycles at the property
Adjacent structures
Apart from the above-mentioned ones, these lots can also have restrictions on the external structure surrounding your house. If the owner is planning to add facilities like pools, extra garages, pool houses or detached workshops on his piece of land, then it is always advised to verify the deed restrictions on the lot before putting in your money for their construction
Which easement restrictions are applied to this Lot?
Easements on lots permit the allowance of some activities on the place for a specific purpose. For instance, an access easement means the owner has permitted the use of his land for access to their property to carry out certain tasks. Usually, this is reflected when the neighbour of the lot you have decided to purchase has a landlocked property.
The commonly permitted easements in the United States includes – 
Building setback lines
Sewer easements
Utility easements
Traffic easements
Gas lines
Private easements
Ariel easements for power lines
When any of the above easements are permitted on the owner's lot, he cannot prohibit any of the easement holders from using it on your land.
As these easement restrictions are not available and hard to decipher for interested land buyers, it is always a good idea to buy the lot from a real estate provider who has done complete research on them for a particular town or state in USA.
Why are easement restrictions complicated on an unrestricted lot?
As per the real estate industry experts, the easement restrictions on an unrestricted lot can seem complex to first-time land buyers owing to the following reasons –
They are tricky and not easily visible
These restrictions usually cover any property feature
It also comprises certain issues like utility lines, driveway placement, setbacks, sidewalks or access
Easement access which permits neighboring property owners or city workers a right to access a specific area of the lot for the particular use
Not complete block of the lot if easement access is permitted by HOA leading to invasion by strangers in your property for specific purposes
What is meant by HOA or POA Restrictions?
One more commonly used term in the unrestricted lot is HOA or Power of Attorney (POA) restrictions which are often similar to Deed Restrictions. It also covers similar areas which are mentioned in them for unrestricted land such as mailbox color, fencing etc. These restrictions also pronounce certain rules like –
how many days in a row can an individual camp of the unrestricted lot without any permission
Whether an individual can park his RV on the lot
The number of trees an owner can cut or remove at one time
The Most Forgotten Aspect of An Unrestricted Land!
Although buying unrestricted land and putting it to maximum permitted use sounds great for beginners or novice lot buyers, the most important and often overlooked point here is to note that even your neighbors have an unrestricted piece of land.
It means the chances of accessibility shared by you and your neighbor can vary and it is also possible that the efforts shown by you as an owner for the proper maintenance and care of its land might not match with theirs!
It means it is possible in two neighboring unrestricted lots, while one is spick and span, the other is just a place of junkyards!
This indicates that in neghboring unrestricted lands, while one of them is clean and following all HOA dictates properly, the other has a pile of old tires and debris, multiple trailers or RVs and other unwanted junk dumped by surrounding people over the years.
Due to this behaviour, it is very much possible the value of your unrestricted lot will diminish when you want to sell the land after a few years! Inconsiderate neigbhors could be sheer bad luck and there is nothing an owner can do about it unless you buy a big parcel size or in the right location!
Hence, if you are planning to buy an unrestricted lot for land investment purposes only then it is always a good idea to purchase it from a trusted real estate investor!
Unrestricted Lot For Sale Near Me
If you are on the lookout for unrestricted land for sale in Mccreary County KY, Pine Knot then here is the link for this piece of the lot you have been eyeing for –
https://landsale4u.com/property/land-for-sale-in-mccreary-county-ky-jd9j35d/
This 0.5-acre unrestricted lot is situated in McCreary County, Kentucky and comes in the No Zoning area, It is provided for sale at a discounted price by Landsale4U on a first-time basis.
We are the most sought-after website for land buyers for multiple types of land properties in USA.
Our database and executives have succinct information about all unrestricted lots with their complete information available for sale in your preferred area.
Contact us to get wholesome data about the unrestricted lot and let us serve you the best!